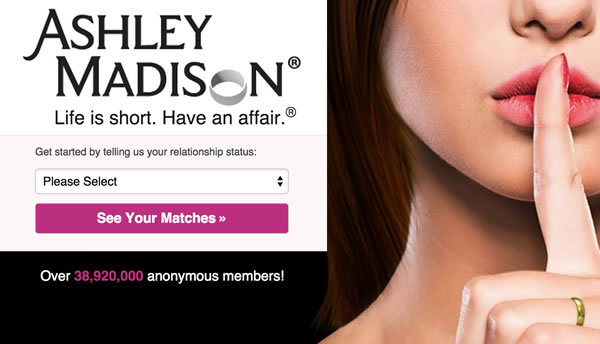 The news that the ashleymadison.com dating site has been hacked probably raises more questions than can easily be answered in a single post.
But what it really illustrates is that any company that gets on the wrong side of faceless digi-terrorists with intent, technical knowhow and persistence can be held to ransom. Whether you believe that a dating site like AshleyMadison has a legitimate place in our society or not is irrelevant. What's more important here is the way that the data was siphoned, the way that the company dealt with the threat, and the ramifications for all users of the site.
Avid Life Media has been instructed to take Ashley Madison and Established Men offline permanently in all forms, or we will release all customer records, including profiles with all the customers' secret sexual fantasies and matching credit card transactions, real names and addresses, and employee documents and emails.
The idea that AshleyMadison promotes infidelity is not quietly assumed, in fact it states categorically on the home page that "AshleyMadison is the most famous name in infidelity and married dating".  And this : "Thousands of cheating wives and cheating husbands signup everyday looking for an affair…. With Our affair guarantee package we guarantee you will find the perfect affair partner".
Irrespective of the morality (and I'm no prude), there's a market for it, and approximately 40 million users of the dating site are testament to it's popularity. One could assume that the hackers of this dating site seemed to target AshleyMadison over the murky morals they actively condoned, but you could also argue that the questionable business practices of  AvidLifeMedia (the owner of AshleyMadison and EstablishedMen – another site targeted by the hackers) – could have contributed to the decision to hack the dating site data.
Impact Team – the nickname of the hacking group – published the data along with the following statement:
Avid life media has failed to take down AshleyMadison and EstablishedMen. We have explained the fraud, deceit and stupidity of ALM and their members. Now everyone gets to see their data.

Find someone you know in here? Keep in mind the site is a scam with thousands of fake female profiles.See Ashley Madison fake profile lawsuit –  90 to 95% of actual users are male. Chances are your man signed up on the world's biggest affair site but never had one –  he just tried to. If that distinction matters.

Find yourself in here? It was ALM that failed you and lied to you. Prosecute them and claim damages then move on with your life. Learn your lesson and make amends. Embarrassing now but you'll get over it.
The data dump – released via an Onion address onto the dark web on Tuesday, included account details, logins, passwords, credit card transaction details, email addresses, street addresses, phone numbers. Along with all their private fantasies and other tasty info.
Nonetheless, many of the 40 million subscribers could possibly have been duplicated through multiple accounts and judging by widespread reports, many female profiles were fake, so perhaps men were more likely to have been dreaming about the affair that never was rather than living the dream.
I still reckon that Peptobysmol and Gaviscon sales spiked on Wednesday morning!!